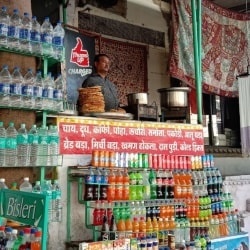 Yatri Jal Pan Grah Udaipur
The shop "Yatri JalPan Grih" was established 70 years ago by Ganpat Singh Makwana. Currently, it is owned by Bhagwan Singh Makhwana with the help of his son. It is located in Jagdish Chowk, shop no.4, City Palace Road, Old City, Udaipur. It is famous because of its Mirchi pakora and samosa. It has various foods from different regional cuisines, served alongside meethi chutney and lemon chutney imbued with Gujarati flavours.
They also serve Paranthas with various stuffing such as Aloo Paratha, Paneer Paratha, and simple Paratha with varieties of masalas. They also specialises in Paneer Paratha as they come with multiple flavours of Shahi paneer. Their services are available from morning 7'o'clock to evening 9'o'clock.
The shop's best thing is its consistency—the way of working and constant efforts to keep running the shop like before.